The Glories of Barsānā
– By His Holiness Śrīla Indradyumna Swami
The palace servants over here, they are inspired by the kind of bliss that is unknown to the inhabitants of Nanda–Gram. Rūpa Gosvāmī gives a very poetic description. He says "The concert of Rādhā's laughter mixed with the tinkling of Her ankle bells and the song of Her Vīṇā defeats even the vibration of Kṛṣṇa's flute." This is the place of many of Her youthful pastimes, especially with Her girlfriends; they would roam this particular area, selling their milk products.
Sometimes they would meet the cowherd boys and there would be confrontations. The particular hill that we are sitting on now, this is one of the four Brahmā's heads in Varṣāṇā—be careful. This is called Vilāsa-Gad. Vilāsa means pastimes, so this is the hill of pastimes. Very briefly, one Śāstra describes that at one time during the Srāvaṇa season during the month of July, Rādhārāṇī and Kṛṣṇa got into a really heavy argument.
The result of that argument was that Rādhārāṇī became very angry at Kṛṣṇa. Now generally when Rādhārāṇī gets angry, Kṛṣṇa has to make it up to Her. He has to give Her some gifts, some sweet words, try to appease Her. But in this particular instance, Rādhārāṇī would have nothing to do with the gifts, the sweet words of Kṛṣṇa. She came up here on the hill, sulking with Her girlfriends.
Now Kṛṣṇa tried to come up that same hill you walked up; you saw it's a little difficult. He tried to come up here to appease Her, but Rādhārāṇī had Her Gopīs and Sakhīs there and they wouldn't let Kṛṣṇa come up, "No way You are going to come up here. Stay away. You offended our Mistress."
Especially Lalitā, she is very protective of Rādhārāṇī. So she said to Kṛṣṇa, "Rādhārāṇī doesn't want to speak to you, She doesn't want to see you—forevermore." Kṛṣṇa was totally devastated. He sat down with all His cowherd boyfriends, "How am I going to get up on the hill and say I am sorry?" So all the boys were saying, "Just forget about Her. She is just a girl. Let's go play."
Kṛṣṇa said, "No, no, I have to go tell Her I am sorry. I have an idea." Kṛṣṇa said, "I will trick those Gopīs who are guarding over there by the hill. I will trick them. I will dress up as a girl and I will get through. I am going to dress up like a girl with a sāri and jewelry and makeup and they won't even notice me and I will get in there to see Rādhārāṇī."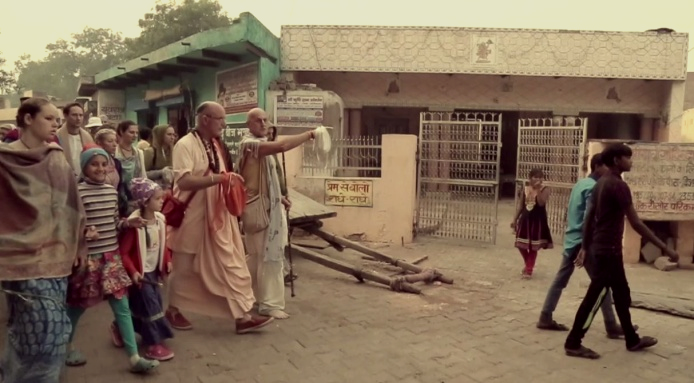 All the boys went, "Oh no! You are not going to dress up like a girl, Kṛṣṇa! We don't like this idea." But Kṛṣṇa was very determined and he said to his boy friends, "Dress me as a girl." "Oh, Okay." You can just imagine.
So they went through the villages here and somehow they got a sāri, they got some kājal, they got some jewelry. And they dressed Kṛṣṇa as best they could. Balarāma was saying, "Do you really want to go through with this? I mean it's so demeaning if you dress like a girl."
Madhumañgala—he was just in the back laughing and laughing. He couldn't control it. He didn't participate, and he was just laughing and laughing. Then Kṛṣṇa said, "All you guys stay here and I am going up," and He walked up the hill as femininely as He could and He came to that group of Gopīs who were guarding there and He said, in a very sweet feminine voice, "I am from this village, this is my name, I have come to sing for Rādhā." "Oh, you have come to sing for Rādhā. Please go by. She is just up here."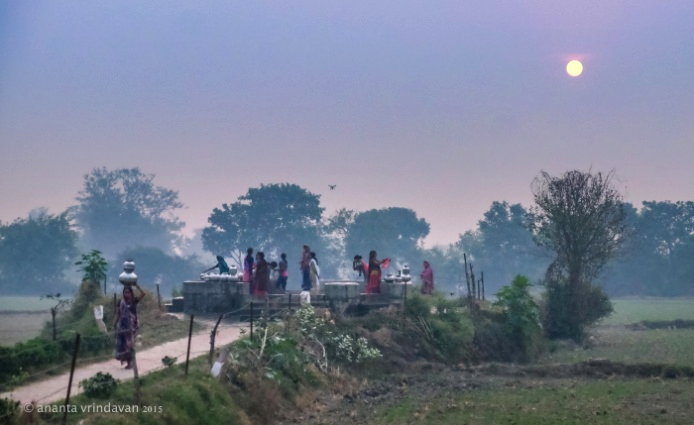 This young Gopī came and she sat down and she just started singing the glories of Rādhārāṇī. Who could sing the glories of Rādhārāṇī better than Kṛṣṇa? That very sweet voice of Kṛṣṇa was filled with so much Prema, so much Rādhā–Bhāva, love for Rādhā, which captured the attention of Rādhā and she said to Lalitā, "I have never heard any of my Mañjarīs or Sakhīs sing so sweetly. Who is this new girl?"
So Lalitā again (she is very protective) said, "Yeah, it's nice but there is something off here. I mean, it's just that the voice is not exactly so feminine and look how she is dressed."
As Kṛṣṇa (dressed as a Gopī) is singing, Lalitā is staring at Him and Kṛṣṇa starts to perspire. Viśākā said, "Why is this young Gopī perspiring? It's not warm up here. This is the autumn season. What's up?"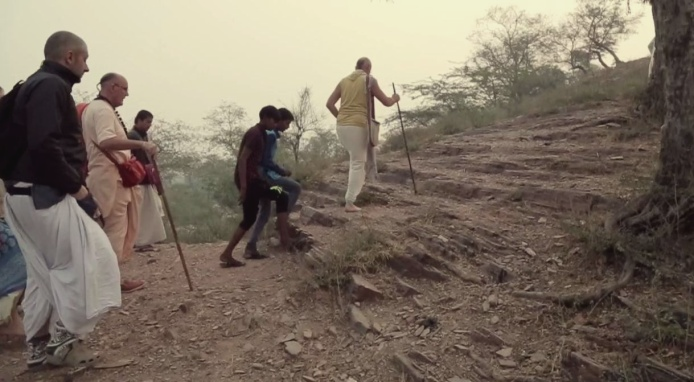 Lalitā whispers into Rādhārāṇī's ear, "Let's have an Iṣṭa-goṣṭhī." The Sakhīs—they are the elder girls that are very close to working with Rādhā—they said to the Mañjarīs, "You just sit here," and they went and they had an Iṣṭa-goṣṭhī, and they are talking and talking and they come up with some plan.
Meanwhile, you know Kṛṣṇa is singing the glories of Rādhārāṇī and perspiring and wondering, "What's going on?" So Rādhārāṇī comes back and the girls sit there and they listen a little bit longer and Rādhārāṇī raises Her hand, "Okay, stop." [Tells Kṛṣṇa to stop singing]. "My dear Mañjarī, you are such a beautiful singer. I want to reward you."
This is very natural, Rādhārāṇī of course is Bhakti–Devī. She is in charge of devotional service and when She sees that some aspiring devotee is very serious about Kṛṣṇa Consciousness, She rewards that devotee with devotional service. We are always praying to Her:
Hare-Kṛṣṇa-Hare-Kṛṣṇa-Kṛṣṇa-Kṛṣṇa-Hare-Hare
Hare-Rāma-Hare-Rāma-Rāma-Rāma-Hare-Hare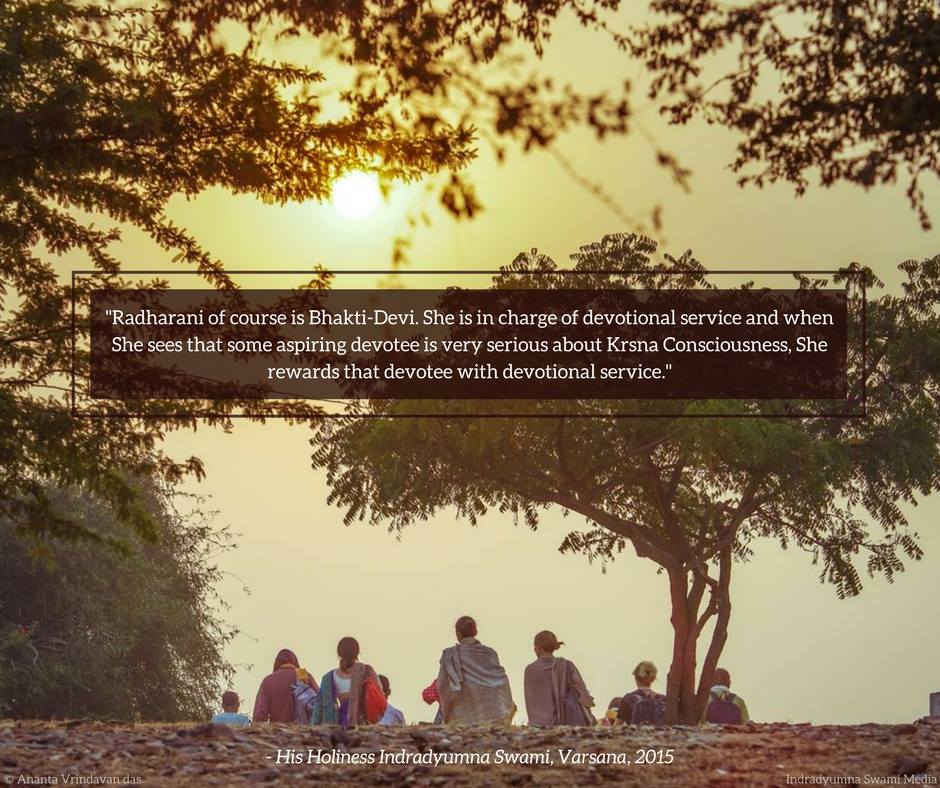 "My dear Kṛṣṇa, my dear Rādhārāṇī, please engage me in Your devotional service." So it's Rādhā who engages us in the service of Kṛṣṇa. She said to this Gopī, "You are expressing so much devotion; I want to give you a reward."
Kṛṣṇa is thinking in His mind, "Oh, maybe She will hug me." You know, Rādhārāṇī hugs Her Mañjarīs, gives them a little kiss. "Maybe She will kiss me." Kṛṣṇa stopped singing and He says, "Well, yes, what is the reward you would like to give me, your young Gopī?"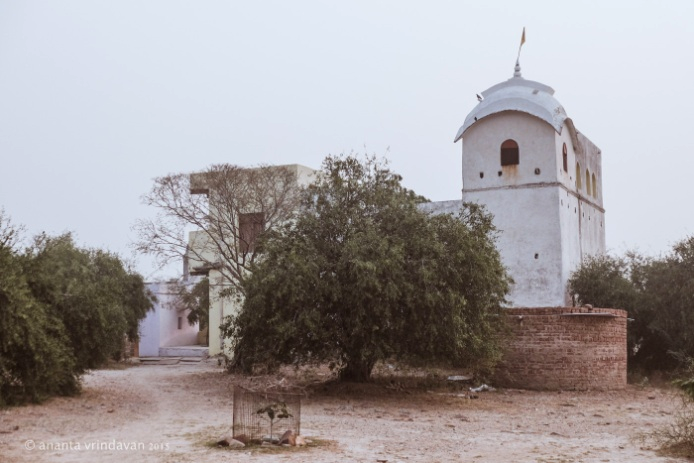 Rādhārāṇī looks at Viśākā and She looks at Lalitā and She smiled. She said, "We want to give You a new set of clothes. I mean, where did You get those clothes? Like, You must have really been in a hurry to dress Yourself, because you know it's a little disturbed. So we are going to give You a new set of clothes and all of My Mañjarīs are going to dress you."
Kṛṣṇa said, "No, no, no, no, no—these clothes are very nice. They are hand-me-downs from my Mom and they are very special and I took a lot of care. I was in a hurry to dress, but it's okay. These clothes are fine. No!" All the Gopīs are coming forward with a set of clothes to dress: "No, no, no, no, no, it's fine, fine. Thank you. Give me something else."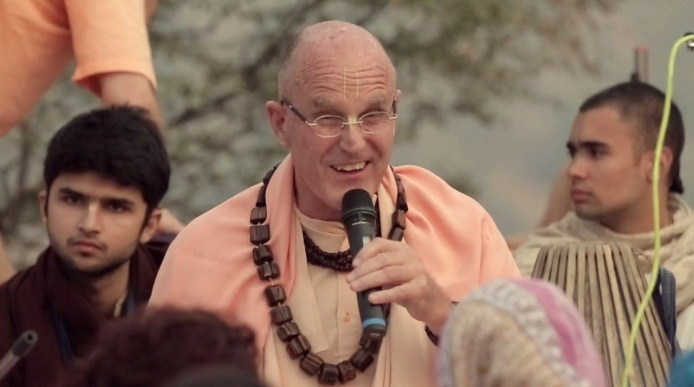 "No, we are going to change your clothes." But Rādhārāṇī said, "Girls, dress this new Gopī." Well, they came and they take off the top little piece that they put there, whatever you call it, and they remove the sāri and then some of the Gopīs undo the choli, and as they undo the choli, two big kadamba flowers pop out!
All the younger Gopīs, they didn't know what was going on. They started laughing. "Oh, this is Kṛṣṇa!" Kṛṣṇa, He was so embarrassed, He turned bright red. He is blue, but He turned bright red, and they are all laughing and Rādhārāṇī, by this act of trying to come up and win Her favor, She was appeased by Kṛṣṇa's trick.
She welcomed Kṛṣṇa back and He dressed in His normal clothes and then Rādhā and Kṛṣṇa, They sat on the beautiful swing here and They had Jhulan Yātrā, and all the Gopīs and Mañjarīs were fanning Them. This Jhulan Yātrā is a popular festival, and it takes place in different parts of Vṛndāvan, but this is one of the favorite places of the Jhulan Yātrā, the swing festival which commemorates those two Kadamba flowers that popped out of Kṛṣṇa's choli, as He was trying to dress as a Gopī and appease His beautiful Rādhā which He did.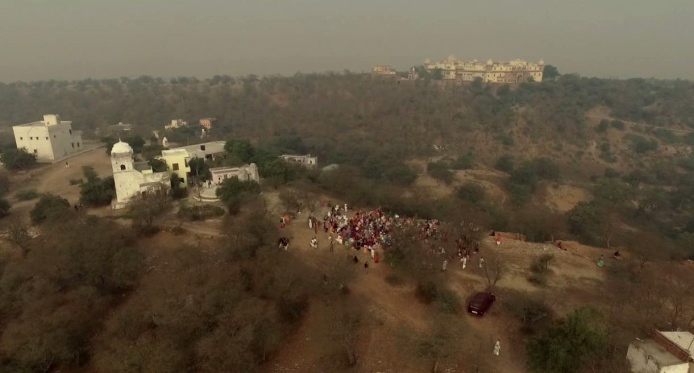 This is the Vilāsa–Gad, the place of pastimes, one of the four heads of Brahmā. He very much desired at the beginning of creation, "Oh, let Kṛṣṇa's Vṛndāvan pastimes happen on my head," so they happened here. There is the beautiful palace which Rādhā lived in with Her family, and you see another beautiful palace right here, isn't it? This is called the Jaipur palace. One king in Jaipur, of course we heard about the Jaipur kings, how pious they were. The Kṣatriyas wanted to protect Kṛṣṇa; Rādhā–Govinda went there. These kings often came here to Vṛndāvan. So one king he wasn't very impressed with this old palace, so he built what he thought was a better palace architecturally and he invited the Deity that is worshipped, this Deity of Rādhārāṇī that is worshipped in this palace to come over here. They tried to bring Her, but She wouldn't leave that palace to come to this palace. So this palace has been empty ever since it has been built. It is just used for Sādhus, and tourists sometimes stay there. She had Her desire to stay in the palace of Her father.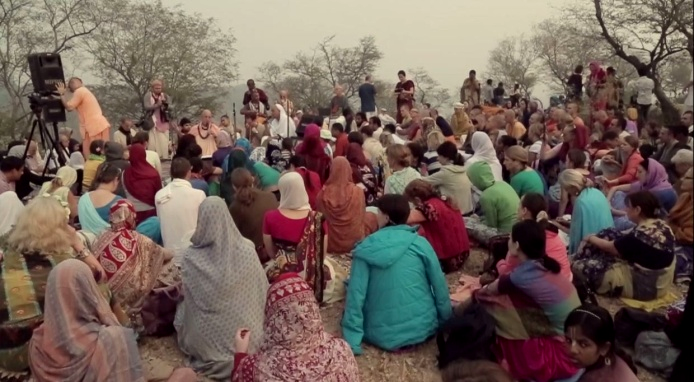 So a very brief introduction to Varṣāṇā, just one or two of the unlimited pastimes that take place here daily. You can appreciate where you're sitting. Every day we're sitting in another very special place and imbibing the mood and the pastimes of that particular place. On this very beautiful autumn morning, I don't think it's going to get very hot here. The season's getting a little cooler so this is a perfect place to come.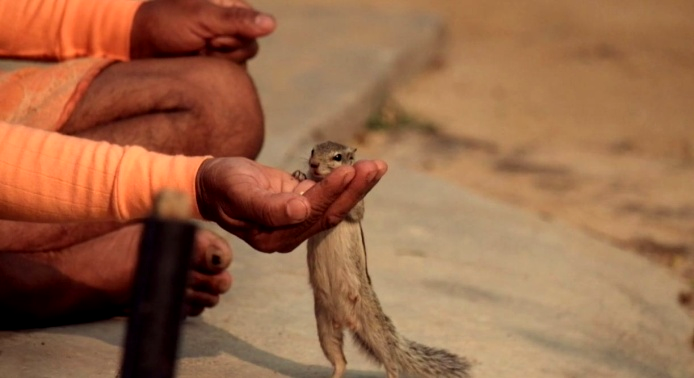 We will have Kīrtana now. Sit and just enter deeply into the chanting of:
Hare-Kṛṣṇa-Hare-Kṛṣṇa-Kṛṣṇa-Kṛṣṇa-Hare-Hare
Hare-Rāma-Hare-Rāma-Rāma-Rāma-Hare-Hare
We have nothing else to do, nowhere else to go, we are in the perfect spot doing the proper thing.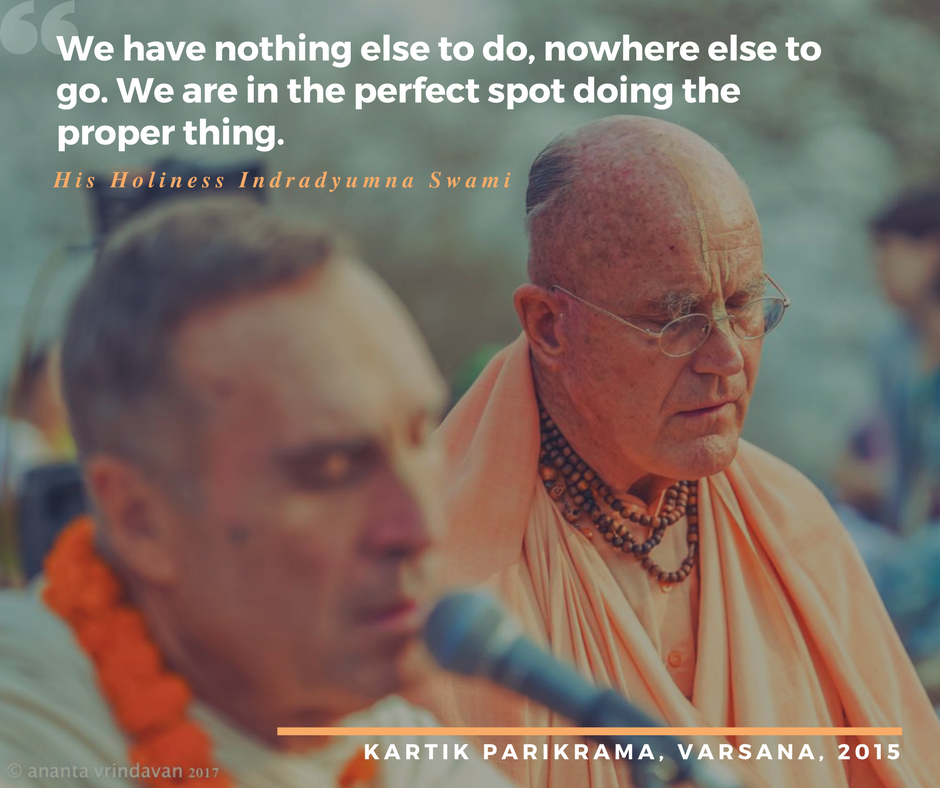 This is the best way to see Vṛndāvan through Śravaṇaṁ, kīrtanam. Then Śrī Prahlāda will enlighten us about the glories of this divine personality, Śrīmatī Rādhārāṇī. Then we will have breakfast, and then we will have another Kīrtana. Why should we go anywhere else? We have come to the perfect place after many, many lifetimes. Then we will walk the traditional route around Varṣāṇā. We are not going to stop and have any more Kathā or Kīrtana. We will just walk, walk, walk, walk, walk; and we will go to the palace, and have darśana of the Deities of Rādhā and Kṛṣṇa. Then we will walk down the hill. We will go to Pili Pokhar. We will hear that pastime later where Rādhārāṇī washed her hands and we will have lunch Prasādam there.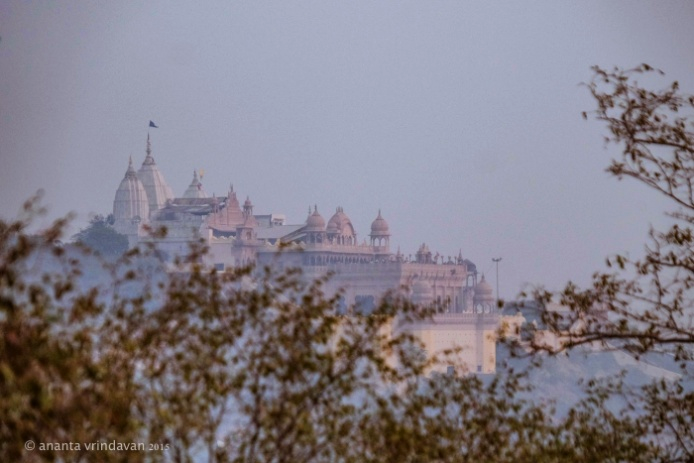 So relish every moment of your stay here in Varṣāṇā and that will not be difficult with Mādhava's Kīrtana.
Vṛndāvanesvari Śrīmatī Rādhārāṇī ki—Jaya!
Vilāsa-Gad ki—Jaya!
King Vṛṣbhānu ki—Jaya!
Kīrtidā-Sundarī Devī ki—Jaya!
Jaya-Jaya Śrī Rādhe……….. Śyāma!