A simple life with Kṛṣṇa at the center
– By His Holiness Śrīla Indradyumna Swami
When Kṛṣṇa was born Vasudeva and Devakī were in great anxiety that Kaṁsa would come into the cell and kill their new child. Mysteriously in the jail, the jail opened, the cell opened and Vasudeva took baby Kṛṣṇa and crossed over the River Yamunā, which is just near here.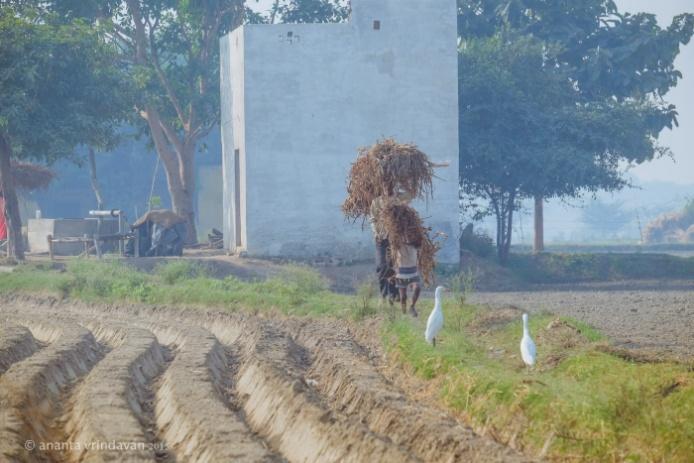 At that time, Mother Yaśodā and Nanda Bābā, they were living here; they weren't living out at Nanda–Gram. They were living right here, so the baby was brought here and given charge to Yaśodā and Nanda Mahārāja. They say that the ancestral home of Nanda Mahārāja is just down the road, maybe one kilometer down the road. There is a palace with one thousand black pillars. They say that's where Kṛṣṇa grew up under the care of Nanda and Yaśodā.
All the pastimes we read at the beginning of Kṛṣṇa Book, the killing of Pūtanā and Tṛṇāvarta, and all those pastimes they took place here in Gokula. Of particular interest, of course, is the pastime where Kṛṣṇa was tied to the mortar by Mother Yaśodā, because He was naughty. I won't elaborate on that story, that pastime, because Baḍa-Hari is going to be the main speaker this morning. But local tradition says that this is the place where Mother Yaśodā tied baby Kṛṣṇa to the mortar and just behind it there you can see that little shade—it's actually a temple right behind you. They say there is the original mortar that Mother Yaśodā tied Kṛṣṇa to, so this is a very, very special place we are sitting right now.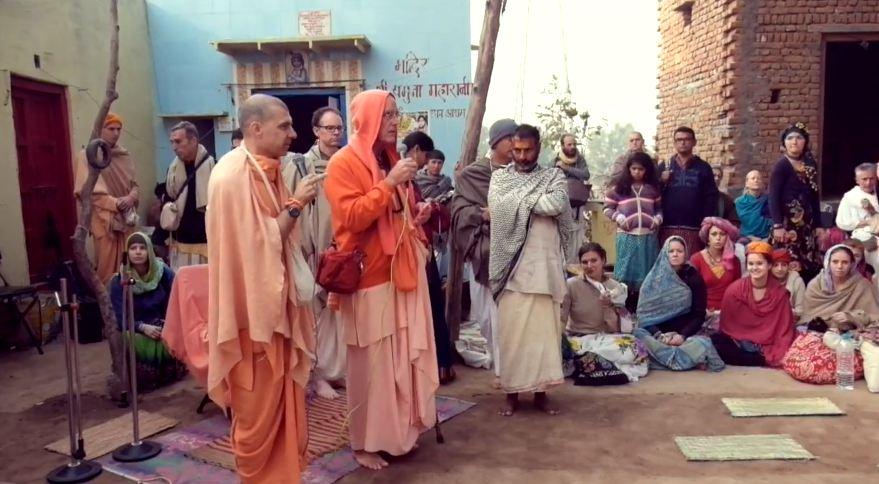 That is the Dāmodara pastime and we are always singing the Dāmodara Aṣṭakam during this month. This is the month of Kārtik, or the month of Dāmodara, so what better place to come than Gokula during the month of Dāmodara. This is really the place to be during the month of Kārtik, so we finally made it. Then there is a very beautiful—one of my favorite Deities actually in Vraja—behind us is a very beautiful deity of Yamunā Devī. She is holding a garland of lotus flowers. She is a very, very old, very ancient Deity. They painted her so she looks a little modern. But actually she is a very ancient deity, so you can pray to her as well, because as we discuss many times here in Vṛndāvan, we are coming here for shelter. We are ultimately coming here for residence: that we want to live in Goloka Vṛndāvan forever. Again she is one of the five personalities who grant residence in Vṛndāvan. So you can say some special prayers to her today here in this auspicious place of Gokula, the land of pasturing grounds for cows.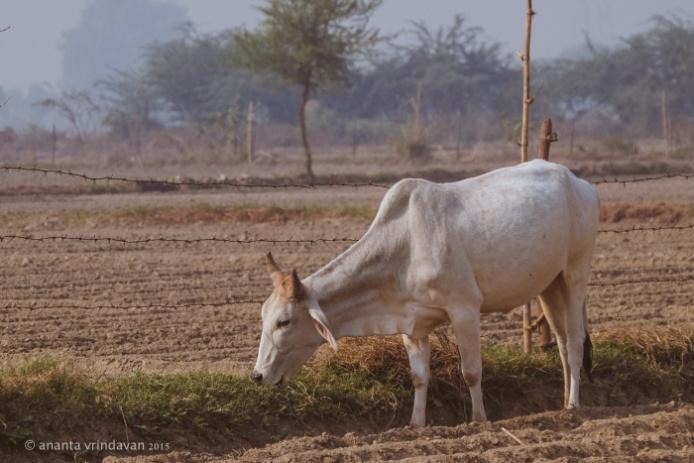 This is Vṛndāvan as it was well five thousand years ago. And this is how we would like the whole world to be actually, back to an agrarian culture, taking care of the cows and cultivating the land—a simple life with Kṛṣṇa at the center. Without again going into too much detail, because Baḍa-Hari Prabhu has been preparing to speak for a few days now, I will just explain in short. This is also Gopāṣṭamī, this is the day that little Kṛṣṇa was given charge of the calves when He was young, because calves are not that difficult to deal with.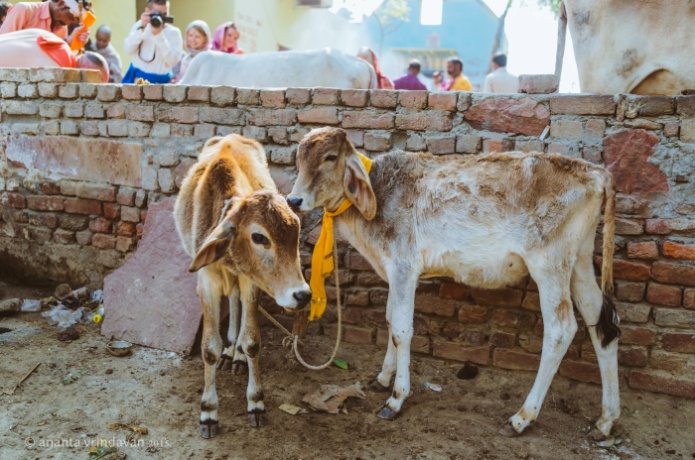 But when he got a little older, He got to be in charge of the cows. So today is the celebration that Kṛṣṇa takes charge of the cows. Now these are cowherd boy pastimes, involving Kṛṣṇa and His cowherd friends and the cows and the pasturing grounds, but somehow or other the Gopīs also got involved. The Gopīs are never far from Kṛṣṇa, wherever He is. In fact, Rādhārāṇī, She is called Anapāyinī, it means She is never separated from Kṛṣṇa. Just how the Gopīs got involved in this pastime of Gopāṣṭamī? I will save that for Baḍa-Hari, but I will mention the Gopīs did dress up as cowherd boys, so you can see we have some girls here who are dressed as cowherd boys. 
There we have a little cowherd boy, too, with a black turban and a peacock feather in her/his hair/head/turban following in the footsteps of Śrīmatī Rādhārāṇī. Actually, all of you know this is the one day of the year, because Rādhārāṇī is playing the mood of a cowherd boy, so She doesn't have Her sāri, She has a dhoti on. So this is the one day in the temples all around the world, you can see the lotus feet of Śrīmatī Rādhārāṇī.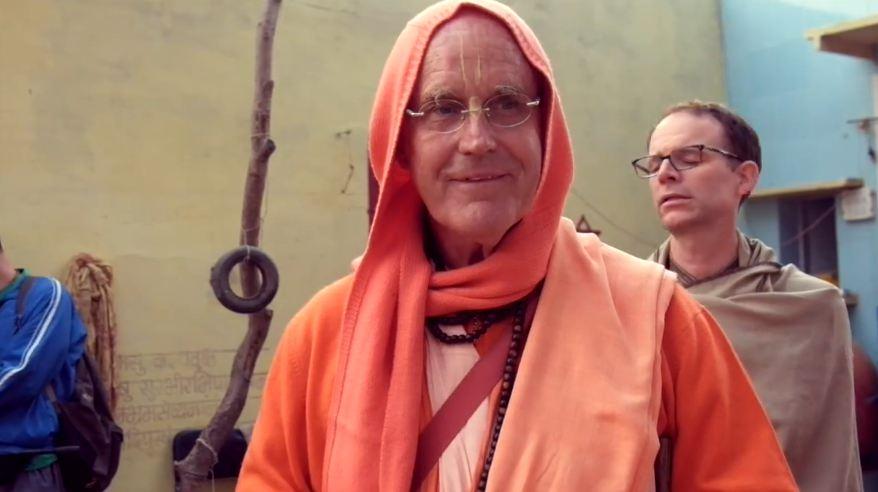 A perfect day to come to Gokula, the pasturing grounds of the cows on Gopāṣṭamī! Fantastic, amazing that we are actually here today! There are lots of nice cows here. Our Mahānta here takes very good care of this area throughout the year. He just finished his sixteen rounds; he chants sixteen rounds in the morning and sixteen rounds in the evening and the rest of the day, he takes care of Kṛṣṇa's cows.
We will relish this day. This is a memorable month; this is a memorable day, a memorable place. Just take advantage of every precious moment that we are all here together in each other's association. It makes it more appreciable, more understandable, more relish-able that we are all here together, our Parikramā family for the month of Kārtik 2015.
I always say that you will look back on these days, these moments as some of the most precious moments of your life. If your memory fades in your old age, when you are my age, 65 or 70, "Yeah, I remember when we were with Gurudeva way back in 2015 at Gokula—and I can't remember, there was a big tree." Then you can take out this little USB drive we are going to give each of you, with all of Ananta Vṛndāvan's twelve or fifteen videos that he has worked so hard to produce and you can watch those videos and all the memories of this wonderful month will flood back into your hearts. I have counted how many hours he has slept in the last three weeks. He has slept about four hours—seriously.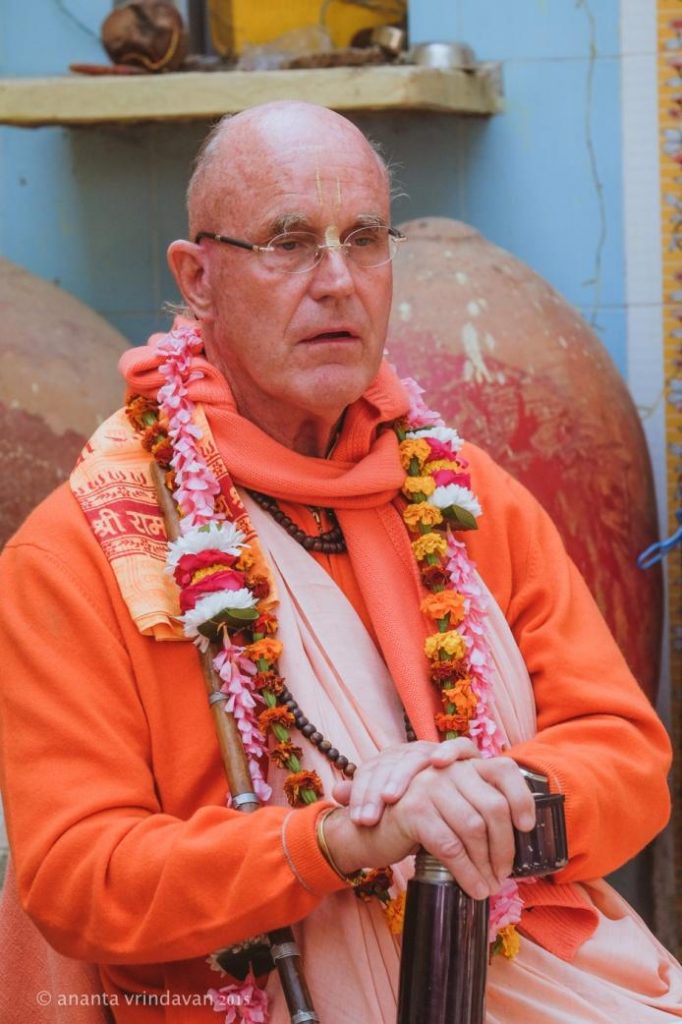 He has only slept about four hours in three weeks. I think he is a mystic yogi. The important part of the world, Vaiṣṇava community, they are all watching these videos and they feel actually like they are here in Vṛndāvan. We are getting thousands and thousands of people inquiring, "We want to come next year, too!" This is a problem, because it's going to be like Rādhānātha Swami's yatra with 6,000 devotees! We want to keep it at 300, keep the family small, so I am not exactly sure what is going to happen, but anyway.
The stage is set for our wonderful experience, for our wonderful stay here in Gokula at the place where Kṛṣṇa dragged the mortar! How are we so fortunate to be here? It's all by the mercy of Śrīla Prabhupāda, by his invitation we have come to Śrī Vṛndāvan Dhām. You can see we have a very nice Yajña–śālā here, even our pujari—priest of Emperor amongst the priests—Madhumañgala—Caturātmā Prabhu, even he is impressed by what Narottama Dāsa Ṭhākur and Mañjarī have put together here this morning. 
Madhumañgala Caturātmā Prabhu ki—Jaya!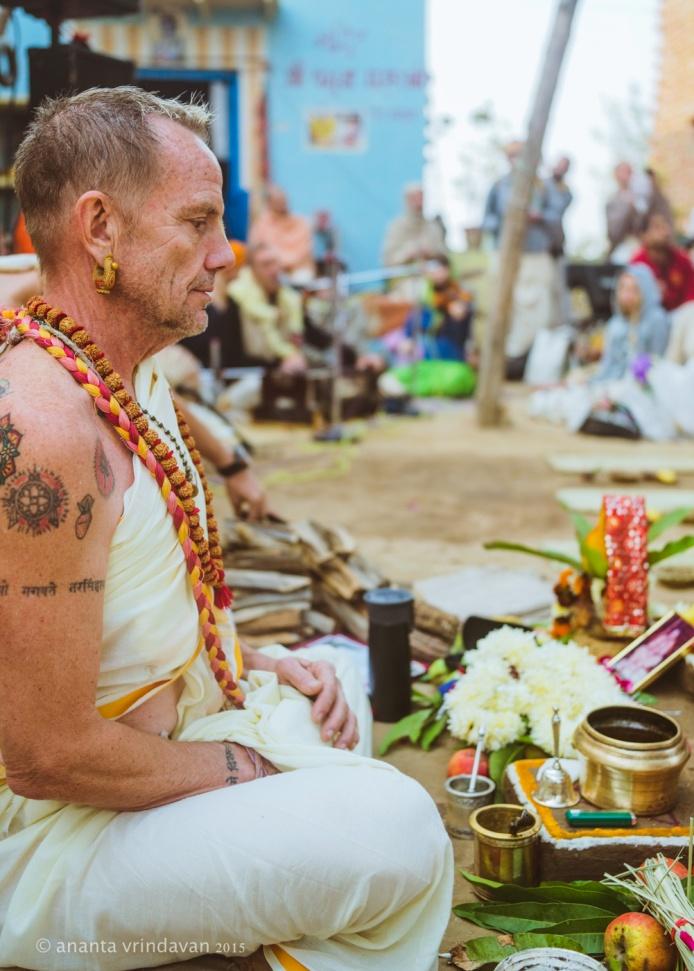 Narottama could you come take a bow, please. Take a bow. This is Narottama. Give him a big round of applause. But behind every great man is a woman, so this is Mañjarī, she is the real force behind it.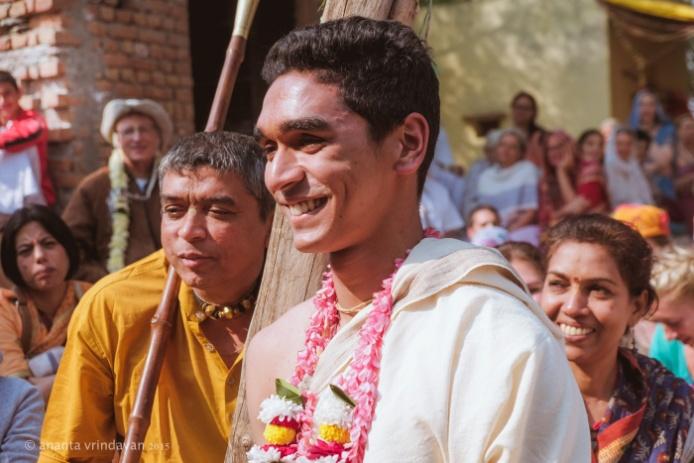 Behind them, that tall handsome boy, that's Śaśi, he is getting initiated today. The whole family is here, everyone is here, so this is a big day for that family, and of course this is a big day for the 32 or so initiates who are going to be initiated here on this auspicious day in Śrī Vṛndāvan–Dhām. I can't imagine a better place to get initiated.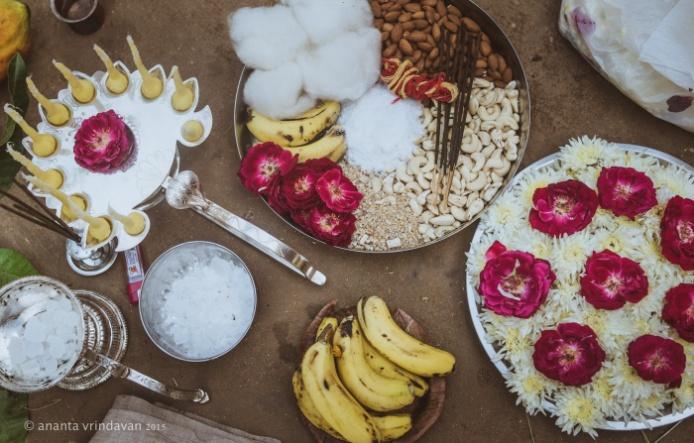 As always I stayed up all night last night searching nice names for the boys and beautiful names for the girls, so if I fall asleep during the ceremony, just wake me up. It's important to have a nice name because you are going to hear that name for the rest of your life. These are all names of Kṛṣṇa or Rādhā or holy places or pastimes with Dāsa or Dāsī affixed at the end—that we are the servant of all these great places, these personalities, these pastimes. 
Actually for the initiates this is the most important day not only of their lives, this is the most important day in their existence since they left the spiritual world. This is the ticket back home, back to Godhead, so this is really a day to celebrate. Generally, it is of course the spiritual master who gives the lecture at the initiation ceremony. But I think more important than that is that we are actually a family, with a greater family of Śrīla Prabhupāda within the big family of our Gauḍīya–Vaiṣṇava Sampradāya. So in the family, you share. I mean, in my family, my father always taught us to share. I can't remember how many times he said, "Share with your brother! Share with your sister!" Today I have asked my illustrious, lovable, traveling companion Baḍa-Hari Prabhu to give the initiation lecture. This is brotherhood—real brotherhood. Actually he is more advanced than me anyways, so I think it's appropriate that he speaks to my disciples and inspires them in Kṛṣṇa Consciousness.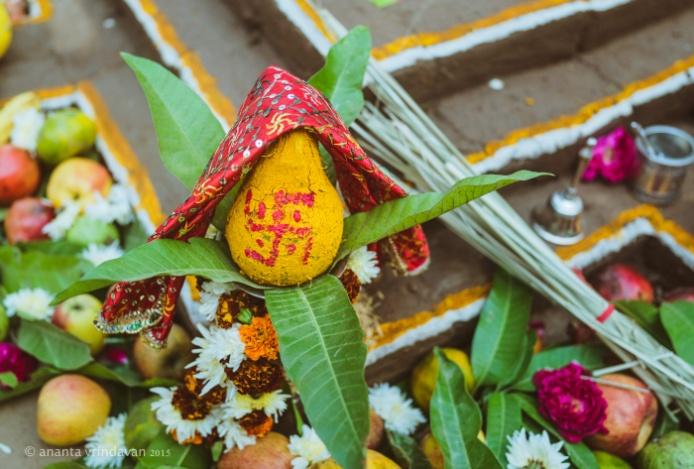 And usually, I like to do the Yajña and how many times have I done that initiation Yajña in Moscow and St. Petersburg and Yekaterinburg, but again we are family and we share. We are all serving our father Śrīla Prabhupāda, so I have asked my illustrious Godbrother Caturātmā, 'Madhumañgala' Caturātmā Prabhu to do the Yajña today, to be the head-priest. 
We have many senior devotees, Prabhupāda disciples here. I don't know who came, who didn't come, I don't know. Manyu Prabhu was sick and Ghoṣa Ṭhākur? Oh, Manyu is here. Glad you are better, back to health. Ghoṣa Ṭhākur. Where is Ghoṣa Ṭhākurji? Most welcome. Ṭhākurāṇī is here. [French statement]. That's French. Mother Viśeṣa, just like we call Govinda, as Govindajī, so I call her "Na-Viśeṣa", my Godsister Viśeṣa, she is here as well giving her blessing to all the initiates today. [French statement]. My good brother, Bonjour, Gopa Swami Prabhu is also here. He is very humble. I don't know, where's Gopa? See. He is a very advanced devotee. He is hiding back in the cowshed. I think he wants to be a cowherd boy or something.
No less important are all of you—Gaura Bhakta Vṛnda, we say Gaura Bhakta Vṛnda, all the devotees of Lord Caitanya, so thank you everyone for coming and making this the special day that I am sure it will be as it unfolds.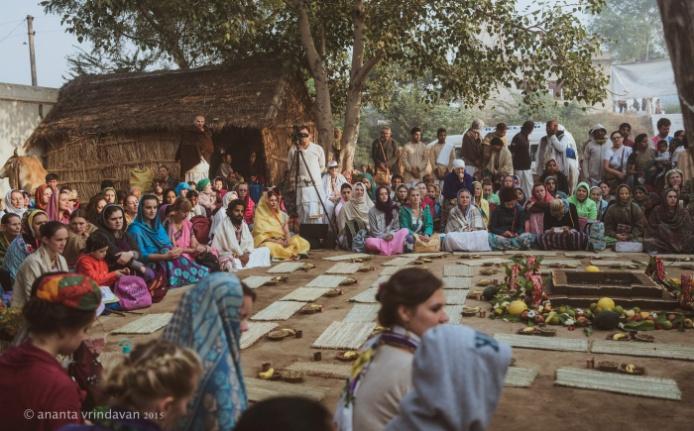 Okay, I am going to step off center stage here and give the microphone to our most beloved, talented musician and singer who sings with lots of Bhāva, and he will be speaking today as well. Please give a big round of applause to Baḍa-Hari Prabhu, who will carry the program on from here. [Applause]
Śrī Gokula-Dhām ki—Jaya!
Dāmodara  pastime ki—Jaya!
Śrī Vraja-Bhūmi, Śrī Vṛndāvana Dhām ki—Jaya!
Yamunā Devī ki—Jaya!
Kārtik Parikramā 2015 ki—Jaya!
Jaya-Jaya Śrī Rādhe ……… Śyāma!