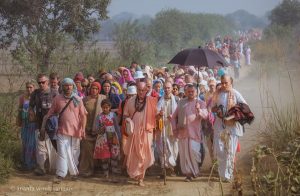 Javat – HH Śrīla Indradyumna Swami – Instructions
Praying to kalpa-vṛkṣa: for pure devotion
– By His Holiness Śrīla IndradyumnaSwami
This is the ancestral home of Abhimanyu, his mother Jaṭilā and his sister Kuṭilā. There are beautiful deities of Abhimanyu, Kuṭilā & Jaṭilā just over here. They are very unique personalities, they create lot of trouble for Kṛṣṇa, lot of obstacles for Kṛṣṇa, but it's always in the mood of increasing the mellow of the Rasa for Rādhā and Kṛṣṇa's pastimes; that is their Sevā. If there is some obstacle to the meeting, then when the meeting finally takes place, it's even more relishable. That's the theme in a lot of Rādhā & Kṛṣṇa's pastimes. This will be elaborated on this morning by, His Grace Caturātmā Prabhu.
And there are also very beautiful Deities of Rādhā and Kṛṣṇa. Rādhā–Kānta are the Deities' names, Rādhā–Kānta, very ancient Rādhā–Kṛṣṇa Deities.
We talk a lot in Vṛndāvan about the desire trees. It's an important part of the history in the culture.
cintāmaṇi-prakara-sadmasu kalpa-vṛkṣa-
lakṣāvṛteṣu surabhīr abhipālayantam
[BS 5.29]
In that verse from the Brahmā-Saṁhitā, we hear the name kalpa-vṛkṣa. The kalpa-vṛkṣatrees are personalities who live in Vṛndāvan, who fulfill the desires of devotees, who request various objects for use in the service of the Lord. You can approach a kalpa-vṛkṣatree and ask for some item that you can use in Kṛṣṇa's service. As we were explaining the other day, the kalpa-vṛkṣa trees are very mystical, they don't just give one object, like apples, or oranges, or bananas, they can give all types of fruits, all types of vegetables, all type of flowers. They can even give cooking utensils, clothes, whatever is required for the pleasure of Rādhā and Kṛṣṇa.
It's very much the tradition of those who go on Parikramā for the last thousands of years, when they come across a kalpa-vṛkṣa tree, especially a kalpa-vṛkṣa tree of this nature—this tree was here 5,000 year ago; actually, Kṛṣṇa climbed up unto this tree trying to get into the palace. This is a very special kalpa-vṛkṣa tree. Devotees, they hug the tree and you reveal your heart:
How you would like to serve Rādhā & Kṛṣṇa;
What you require to do that activity.
Whatever the spiritual desire that you have can easily be fulfilled by a kalpa-vṛkṣatree.
I recommend before you all leave today, you give this kalpa-vṛkṣa tree a big, warm, tight embrace and reveal your heart, and be careful not to mix material desires in it. That would be disastrous.
na dhanaṁ na janaṁ na sundarīṁ
kavitāṁ vā jagadīśa kāmaye.
mama janmani janmanīśvare
bhavatād bhaktir ahaitukī tvayi
We just pray for pure devotional service. This is a wonderful opportunity here at Javat, very sacred isolated place.
Actually this is the last day of our Parikramā. Tomorrow we cancelled the Vṛndāvan–Parikramā because I am not that well and also I have lot of things to do before we leave Vṛndāvan. So this is actually our last Parikramā Day.
But of course we will be meeting on the 25th at Nityānanda Vat, the Śrīngāra Vata. We will have a fantastic program, and we will speak our memories and our realizations. Don't lament, it's not over. That's a very special event as well.  That's the 25th, day after tomorrow. We will leave from outside of my house on the Parikramā Mārga. So please relish every moment of this transcendental day. Mādhava Prabhu, who so kindly graced our Parikramā party this month, will sing Kīrtana, then Caturātmā Prabhu will speak about the glories of this place in detail.
Then that transcendental walk, through the Braja–Reṇu, through the dust of Vṛndāvan, through the fields of Vṛndāvan to Ter Kadamba!  There Baḍa-Hari Prabhu will lead us in Ṣaḍ-Gosvāmī Aṣṭakam, the prayers to the six Gosvāmīs, and Ṭhākurāṇī Śītalā Devī Dāsīwill speak on the glories of Śrīla Rūpa Gosvāmī. Who could ask for a better day than this? This way you have so many precious memories in your heart to carry with you throughout the year. If your memory is not so good, you can have that USB drive, with all of these 14 or 15 videos of Ananta Vṛndāvan; and there is always Kārtik 2016.
Śrī Yavat Dhām ki – Jaya!
Śrī-Śrī  Rādhā Kānta ki – Jaya!
Śrī Braja Bhūmi Śrī Vṛndāvan Dhām ki – Jaya!
Kārtik Parikramā – 2015 ki – Jaya!
Kārtik Parikramā – 2016 ki – Jaya!
Kārtik Parikramā – 2017 ki – Jaya!
Jaya-Jaya Śrī Rādhe ……………………………….Śyāma!
Hare Kṛṣṇa!