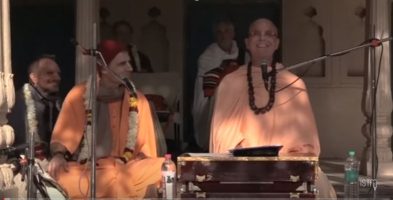 Nityānanda vata – HH Indradyumna Swami & HG Caturātmā Prabhu – Parikramā Realizations
The Glories of Parikramā
– By HH Indradyumna Swami & HG Caturātmā Prabhu
HH Indradyumna Swami Mahārāja:
Mother Śītalā said the other day, when she was beginning her talk on the disappearance of Śrīla Prabhupāda; she began by saying, "This is going to be painful". Like that it's always hard to say good bye. Of course there is a famous quote from my good friend ŚrīPrahlāda. At the end of every festival program on Baltic-Sea cost, he would say that, "There is only one good thing about saying 'Good bye', and that is in the future, we can say 'Hello' again".
In my mind I am already thinking of Kārtika 2016, for some new places to go; like Badrikāśrama way far out at the end of Vraja; some other forest, we haven't visited and  some of those 60 billion holy places that we haven't seen yet. How many of you would like to join us next year?
Also because of the internet we have all these videos posted and they are being shared everywhere and I think we are going to exceed even Rādhānātha Swami's Parikramā party, by something like maybe 60 thousand people! [Laughter]
But for now we are sharing our memories and realizations. I take these events quite seriously, so this morning I was preparing a little bit by taking out this year's itinerary. We have that itinerary on the website and I printed it out; all the different places that we visited from A to Z. I was thinking what days I would like to comment, what events I remember, what precious moments and so forth.
"Oh there was Kāmyavana!" I thought about that for a while, to make a few notes on Kāmyavana. Then there was Mathurā, all the temples I remember that and I want to talk about; then Madana–Mohan temple up there on the hill; then the program at GokulānandaNarottama Dāsa Ṭhākur's Disappearance day, and then there was first GovardhanParikramā that we walked— ran. Then all of sudden I realized that I had like 15 pages of notes, far too many to speak on today. At that moment I had a realization and my mind went back to polish festival tour on the Baltic Sea cost. At the end of every festival we have this big Kīrtana, where all the people, especially the children, dance in front of the stage. It's kind of competitive, but at the end we invite all the kids to come up, which numbers around like 50 or 100 sometimes. The children come up and we give all of them presents; we give each girls a silk Sāri and they are like dumbfounded. They just love it and never forget it. You know it takes some time to give 100 little girls – Sāris and the boys – sweets. But you know in the mean time, the master of ceremony is interviewing each little child, so "Did you like the festival?" "Yeah!" "And what was your favorite part of the festival?" Like this 10, 15, 20 kids are interviewed before all the girls have their Sāris on; and then we conclude the show.
My Polish is as bit as my Russian— about 4 – 5 words.  So when we started this, they asked the little girls and all the kids were saying "Wszystko!" I keep on hearing this word "Wszystko" and after 4, 5 festivals I looked around and asked what this "Wszystko" mean? A devotee said, It means "everything". The little girls when they were asked what did you like? They said, "Everything!"
As I had my notes of 15 pages I realized, I was writing down every single place we went, every single thing that happened, and every single thing that we said. I realized that about our tour this year, I liked "Wszystko!" – I liked 'everything'. But we are supposed to share few outstanding moments, so I don't want to take too much time, because there are many speakers. For me the main thing that stood out was:  On the first Parikramā we went to Kāmyavana, and that beautiful gorgeous all merciful compassionate red colored deity of Vṛndādevī, I just can't get it out of my mind; because it was just an overwhelming experience to me, to see that historic deity of Rūpa Gosvāmī. It's so big and so red and so merciful. I just remember her, I hope I shall remember her when I leave this body; I hope that Saṁskāra, that impression stays in our heart.
Then we went to Mathurā, and you know at Mathurā I was expecting to see Kṛṣṇa killing Kaṁsa and fighting Cāṇūra, Muṣṭika, Kuvalayāpīḍa; but what I saw was Varāha. [Laughs] Because Varāha has a very intimate relationship with Mathurā, as we discussed, I won't be talking about it again but, the big black deity of Varāha and the big white deity of Varāha–"Wow!" that was so amazing.
Then at Madana–Mohan up on the hill there, I had many rounds to make up, so I was sitting back a little bit; and I couldn't hear much more of what it was, but watching Caturātmā's animated lectures, like Italians they speak with their hands; so I could understand everything he said by sign language. Then you know we kind of split up with some devotees and we moved unto Sanātana Gosvāmī's Samādhi. I am now an old guy, I don't play Mṛdunga so much anymore; but I picked up that Mṛdunga and I received so much enthusiasm, inspiration; so that's one of my favorite places in Vṛndāvana and we had 2 hours Kīrtana there.  That Kīrtana at Sanātana Gosvāmī's Samādhi was so wonderful!
Then we did the first Govardhan Parikramā, and at one point we were so enthusiastic we started running, literally running and it was captured by Ananta Vṛndāvana, put on that particular video at the end as one of the climactic scenes, in that everyone is running; he captured that running around Govardhan hill.
Also when we came here for the first time, and put Jīva Gosvāmī's beads around my neck, I got to speak by wearing those beads.  I thought I was just garlanded by mercy, so I had to say something significant.
Then at Jaipur, when we went for Parikramā, Darśana of the Deities, I tried to position myself so that I could watch all of you coming and see Govinda. I had a quick Darśana of Govinda but I wanted to see many of you who were there for the first time; I wanted to see your faces when you saw Rūpa Gosvāmī's Govindaji and then, all the people chanting with so much love and so much devotion and that atmosphere was just like Goloka and just to see your spiritual senses come alive, it was so satisfying. And then the Harināma we had at the lake of blood –Kurukṣetra. Do you remember those lakes? That were created from blood of out of the 21 generations of disobedient Kṣatriyas that Paraśurāma killed. We decided to have a Harināma there and I was thinking, "Harināma! But there is like nobody out there." So I said to Kālasamvara, "We can't have Harināma with nobody?" He said, "No! There are 33 million demigods." "Ok let's go", and that was such an ecstatic Harināma we had, Kālasamvara is leading, Prahlāda, for me that was a very memorable moment.
When we visited Tālavana that big beautiful deity of Daujī and telling that story about Dhenukāsura was so much fun. Śītalā's lectures painful as it was on Śrīla Prabhupāda'sdisappearance day, actually I couldn't stay but I was listening from the other side of the wall. But Prahlāda said, it was the best disappearance day lecture that he had ever heard.  Then Prahlāda gave some really good lectures, I mean everyone was outstanding, but my favorite was his lecture he had at Kṛṣṇa Kuṇḍa about Rādhārāṇī. How he started out with Tattva you know the basic elements of truth and expanded into the pastimes. Like you can see why he is one of the main professors now at the University of Sydney. He is a good speaker but that was saturated with so much devotion.
Then Caturātmā's 44.43 minutes superfast lecture a couple of days ago at Yavat; He did it. He had prepared maybe a 2 and half hour lecture but he spoke so fast that he got all points included in 44.43 minutes.  On my watch I was actually keeping time, and he looked back and he smiled at me, "I did it". [Laughter]
I want to give him a gift, not only for that but just you know for giving everything jolly and talkative and sharing all the fun that we had on this month; Because older devotees, god brothers— they are in charge of all of you, just to make sure that you have a good time in Kṛṣṇa Consciousness. I am especially indebted to the senior god brothers and god sisters; so I thought I would give him a really nice present and it's not the Govardhan Śilā, he had enough of those. When I got this present from the Sādhu, these ancient wooden beads, he said, "I would like to have that". Wow! That's pretty bold. [Laughter] But as they say in the English, "fortune favors the bolds". [Śrīla Gurudeva offered the neck beads to Caturātmāprabhu]
I really appreciate Baḍa Hari Prabhu's initiation lecture. He has not realized it now because we were just moving so fast, 2 of us for the last 3 years and he doesn't realize where it went. Actually for the last 3 years he has given all the initiation lectures. I ask, "Can you give an initiation lecture?" "Aha, Yeah OK." But then I realized, I was having him do all of them because it's so good. He also gives all the marriage lectures, I just sit back, I give my blessings, and I get the donations [Laughter].
It was really fun having my son Gaur Śakti, joined us for a few days; he is on facebook right now here looking at this lecture so you can all give him a big round of applause – Gaur Śakti!   [Claps-Haribol] I call him Śaktipāda, so he really enjoyed this and also said, he will be coming back again next year. He keeps reminding me when I say, "go to this place in India and that place", he says, "Pita (father), why go anywhere else? Just stay in Braja, everything is in Braja." So he has realized this. Haribol Śaktipāda!
Another indelible memory that etched in my heart is, how we start, how we set the stage. It is so important to set the mood properly to absorb the Dhāma, how Mādhava prabhu so expertly and devotionally and melodiously began each program with his Kīrtana every day. You all kind of moving and wrestling and as soon as his Kīrtana starts everyone is just focused on the mood of Braja. We are so indebted to Mādhava prabhu. [claps –Haribol]
All these things: the personalities, the places, the Kathā, the Kīrtana, they create the Saṁskāra. Saṁskāra means a deep spiritual impression in the heart that just doesn't go away. It's just like, unfortunately when I was young and some of my god-brothers were young— we heard all these songs from the 60s & 70s, and you know sometimes they pop in the mind, "Oh No!" They are just like bubbles that come out of mud, they come to the surface of the mind, but they are material impressions. While spiritual impressions are much more powerful and much more important and if we keep going on Parikramā every year, we go back and we keep preaching, then these Saṁskāras, they will come to our mind again and again. Maybe when we leave this body— one of these holy places, one of these lectures or one of Baḍa Hari Prabhu's Kīrtanas will then take us Back home back to god head; that's Saṁskāra. So don't forget. If you think of the past, then think of this last month, and in the coming year when things may be getting a little difficult, like some opposition in the preaching, you are alone in your apartment in a cold and dark – winter evening, or you are frustrated doing 5 hours of homework or you are on a long tedious plane ride, you are dealing with some family problem, some disciple problem- then remember all these moments of this month and you will get strength, inspiration and hope.
In conclusion because we want many devotees to speak I first in foremost would like to thank Śrīla Prabhupāda, by whose invitation alone, we are here today.  He could have easily stayed here; he took Sannyāsa and as a Sannyāsī he had right to retire to the Dhāma; he could have stayed here and just immerse himself in Kṛṣṇa consciousness, but he took it upon himself the order of spiritual master to leave this wonderful place, this wonderful world of Kṛṣṇa consciousness and go to hellish – Mlecchā–Deśa, Yavana–Deśain the West, to bring all of us back here, future generations as well. Therefore we are all indebted to Śrīla Prabhupāda.  Whenever you receive a gift you have to say – Thank You; and if you receive the greatest gift, you have to give the biggest 'Thank You'. I think the biggest 'Thank You', the expression of gratitude that we can offer to ŚrīlaPrabhupāda is to go back and bring other people here, people who are suffering, who are in misery, who are bewildered, wake them up in Kṛṣṇa consciousness and whatever time that takes, bring them to this wonderful Dhāma so they can also have the Vṛndāvana experience; that's the best way we can reciprocate with Prabhupāda'smercy. I would also like to thank specially my God-brothers & God-sisters who so much contributed to the Vṛndāvana experience:
Baḍa Hari Prabhu!  [Applause: Claps, Haribol!]
Madhumaṅgala (Caturātmā Prabhu)! [Applause: Claps, Haribol!] He looks pretty good with these beads on.
Ghoṣa Ṭhākur!  [Applause: Claps, Haribol!]
Manyu Prabhu! [Applause: Claps, Haribol!]
Gopa Swami Prabhu! [Applause: Claps, Haribol!]
Ṭhākurāṇī (Mother Śītalā Prabhu)! [Applause: Claps, Haribol!]
And best apple crumble maker in the whole universe- Mother Viśeṣa Prabhu! [Applause: Claps, Haribol!]
I am very much grateful to my disciples, Govinda Caraṇa & Rasikā for their super excellent management, what can I say! [Applause: Claps, Haribol!]
Our translators so that our translation would be understood, so Murāri Kṛṣṇa Prabhu, Uttama-śloka! Barsānā Rāṇī! Dulāli! [Applause: Claps, Haribol!]
The Sound Team, they have done wonderful job! [Applause: Claps, Haribol!]
The man who never sleeps, Ananta Vṛndāvana! [Applause: Claps, Haribol!]
We would like to thank Rāmāi Paṇḍita, Dhaniṣṭhā and Vṛndā for keeping my house the head quarter together during the whole show. [Applause: Claps, Haribol!]
And all the cooks who cooked wonderful Prasādam! Prasādam was pretty good this year right! The Prasādam that you had most of the days on the Parikramās! [Applause: Claps, Haribol!]
Thanks to Vṛndāvana TV  for airing our program for the greater Vaiṣṇava community. [Applause: Claps, Haribol!]
Once again to Mādhava & Baḍa-Hari Prabhu, they had just such amazing Kīrtanas,that took us to Goloka immediately. [Applause: Claps, Haribol!]
To all the Vrajavāsīs in Vṛndāvana, past, present and future; who make this wonderful abode, what it is. [Applause: Claps, Haribol!] That includes the cows, the buffalos, the butterflies, the bees, the dogs even the pigs. [Applause: Claps, Haribol!] Even the monkeys! [Applause: Claps, Haribol!]
We would like to thank again the 5 personalities, who we spoke so much about to grant us entrance into and hopefully one day residence into Vṛndāvana. [Applause: Claps, Haribol!] These are Gopeśvara Mahādeva, Vṛndādevī, Paurṇamāsī, Govardhan Hill, and Yamunā.
I would like to give a special thank you once again to all of you without you it would be nothing! [Applause: Claps, Haribol!]
There is a saying in English, "We are all that we have". We were on the Polish tour, I sometime mentions my favorite thing is to sit at the gate, you know the entrance to the festival, where people can't really see me, and I just watch them coming with great expectation, and the looks on their faces when coming in to get their first experience of this wonderful world of Hare Kṛṣṇa's, and to see them that is my greatest pleasure.   They are brand new, but they got a little taste on the beach of an invitation or Harināma and they are coming like, "Wow I want to experience this Hare Kṛṣṇa!" and thus watching them walk by, that's the greatest joy of my life actually. Sometimes I actually feel like offering my obeisances to them. What would the festival of India be without them? Actually ultimately as George Harrison famously said, "Everyone is devotee of Kṛṣṇa, some realize it and some don't".  There is something special about the birth of the newborn baby, so there is something special about seeing the conditioned soul take their first infantile steps as unconscious as they are, unto the path of devotional service, Kṛṣṇa Consciousness.
Here in Vṛndāvana the other side of that experience is that 2 headed coin – preaching and the Vṛndāvana experience. Here my greatest pleasure was watching all of you awakened to the wonderful world of Goloka Vṛndāvana, right here centerfold in this holy abode of Vṛndāvana. I just loved watching your faces, how you were swaying in the Kīrtana and dancing and listening so attentively, just absorbing everything; for me that was my Vṛndāvana experience.
We can do this again next year and for many years to come, I will consider it my greatest honor to serve all of you in this way again. It is kind of hard to offer my obeisances to the people because they might see me, I have done that for few times; but I can easily offer my obeisance to all of you.
[Śrīla Indradyumna Swami offered obeisances to all of audience]
vāñchā-kalpatarubhyaś ca kṛpā-sindhubhya eva ca
patitānāṁ pāvenebhyo vaiṣṇavebhyo namo namaḥ
Gaur Bhakta Vṛndā ki – jaya!
Śrīla Prabhupāda ki Jaya!
Kārtik Parikramā – 2015 ki – Jaya!
Kārtik Parikramā – 2016 ki – Jaya!
Jaya-Jaya Śrī Rādhe ……………………………….Śyāma!
'Spasiba Bolshaya!' [Big Thank You]
Hare Kṛṣṇa!
[Applause: Claps Haribol]
HG Caturātmā Prabhu:
This is about appreciation and realizations and I had 2 particular groups of persons that I really felt in spite of everyone else having said so many things, that I have also wanted to give my appreciation to them; and that is once again our management team. I mean all of you who are experiencing your Vṛndāvana Parikramā only through this medium, you have no idea but everything was taken care for you so nicely; and so many endeavors and so much effort and so much arrangement and finagling was done just to make it such a wonderful experience for you. Having managed couple of temples and couple of Rathayātrās and festival of colors – big events like that, I know it can really be a headache working all that out.
Maybe you didn't get the room partner that you wanted; maybe you didn't like the particular bus you want; maybe Prasādam came a little later than you wanted that day;  but let me tell you, this management team of 5 or 6 people have done absolutely astounding Job. I take the dust of their feet on my head any day of the week.
Now all of you have your bag-pack, your little bag you are carrying with you every day, right? You know we all are dressed up nice & warm in morning and what you need in day you could shove in that bag and that bag gets little heavier. Well way before all of you get ready on the busses this group of men right here, they are at Gurudeva's house shifting these equipments up & down from the roof every morning and every afternoon, endlessly just to get it here ahead of all of us.  Up the rocky hills of Barsānā, down onto the slopes of Kṛṣṇa Kuṇḍa, into the court yards of Gokula, anywhere we go by the time we get there, they have already got there and set everything up, so just like that. I am very grateful personally to all of you.
Realizations are of 2 kinds, those personal intimate realizations that motivates on our devotional service that we keep to ourselves and those realizations that are pertinent to the collective effort to become Kṛṣṇa conscious. 1st one I won't speak about because it's not the appropriate. But of the 2nd group there are 2 particular realizations I had this year. One of this I spoke about several times when devotees would ask me. How do we see Vṛndāvana? I mean I look around and I don't really see the Vṛndāvana that we are reading about and hearing about in the Śāstras? But that's the problem; we are trying to see Vṛndāvana with our eyes. We don't see Vṛndāvana with our eyes. We don't see, as Gurudeva says, as 60 million holy places with your eyes. See them through your ears. Because by seeing with the ears, which means as we hear about these places our heart becomes cleansed; and when the heart becomes cleansed then with the actual spiritual eyes, we began to see things in that perspective. This is how we see Vṛndāvana – 'premāñjana-cchurita-bhakti-vilocanena' [Bs. 5.38]. When our vision is quoted with love that comes from purified heart and that heart became purified by hearing from the saintly persons.  This is the essential understanding in coming to Vṛndāvana and trying to see these holy places.
The 2nd realization I had dealt with something equally profound things. In observing all of you and reading Ṭhākurāṇī's manuscript that I share with many of you that comes in the evening – things about Narottam, I noticed one particular thing. Loving emotions and exchanges of friendship and appreciation and deep concern for each other, these are all real. These are not false sentiments that we give up as the materialistic concept and try to become, staunch in devotional service. The hearts and feelings of all of our Ācāryas, were genuinely soft and filled with love and compassion for each other. This is the type of relationships that we should have in our own dealings with each other. I am very fortunate to senior god brothers that are very much caring and loving with me like that. For me it was kind of nice, because it wasn't just like, "Oh I am some sentimental old fool" and that just how I am; but I could see that this is actually how relationships between devotees and devotional service really are. So for all of you, I thank you very much for giving me that impetus and helping me get that realization; and I simply pray that the future of our lives is built upon this year after year after year after year. With your blessings I pray that, may I be able to come year after year after year after year. Thank you very much.
[Applause: Claps, Haribol!]